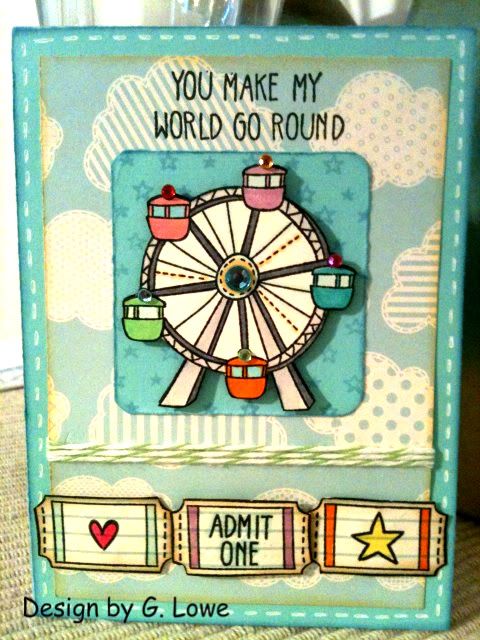 Pin It
So I've been a wee bit obsessed with cardstock with clouds on it. I've been incorporating it on a lot of my projects. I made this card's cloud background with Jilly Bean Soup's corn kernels cardstock, which also has an adorable white flowers on solid green pattern on the other side. I went around the cloud cardstock's edge with my Tim Holtz foam tool and added a hint of color to give it dimension. You'll notice I do this on almost all my projects. It was the very first technique I learned when I started scrapbooking and I just love it! I put the cloud cardstock on top of some Bazzill's Basics card stock in aqua and then layered on another layer in that same aqua colored Bazzill cardstock that I stamped with Lawn Fawn's tiny backdrops. Using the Lawn Fawn 'Admit One' stamp set I cut and pieced the tickets and ferris wheel after I colored them in with Copic markers. Using different sizes of foam adhesives I adhered them to the card. Before taping down all the layers I wrapped some baker's twine around the cloud cardstock just to give it a lil something, something. Finally I attached the lil Doodlebug gems and went around the bottom layer of aqua cardstock with a gel pen for a faux stitching look.
Five things I'm obsessed with right now:
Cloud cardstock
Lawn Fawn stamps
Doodlebug gems and buttons
Copic markers
Foam adhesives
If you have any questions about this card or any of the products I used, please don't hesitate to contact me. Thanks so much for reading my latest entry. Please subscribe to my blog if you're feeling frisky. :) Any crittiques are very welcome. Seeing as this is my first blog ever, I could use all the advice you can toss my way.
Inky and glittery fingers for all!
Gaby